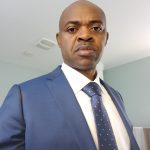 Dr. Fabien Youbissi is a Risk Manager with more than 10 years of experience and currently Director Trading products. He holds a PhD in Applied Mathematics and a Master in Financial Engineering from Laval University.
Fabien is an active member of the Cameroonian community in Toronto with the ambition to help this community (full of talents) achieves its full potential for economic and social development in the Canadian Society.
Fabien is the Chair of the CCF- Toronto Chapter.