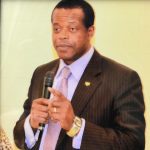 Dr. Moïse Ndoh is the Chair of the Cameroonian-Canadian Foundation. He is employed by the National Research Council Canada, Industrial Research Assistance Program (NRC-IRAP) as an Industrial Technology Advisor (ITA supports ICT SME innovation in Alberta and in Canada by providing R&D technical and business advice, networking and financial assistance).
His involvement has helped stimulate wealth and build innovation capacity through the creation of new companies, jobs, new technologies, services, and new and improved products.
In 2017, Dr. Moïse Ndoh noticed that some of his clients were small companies working on the Internet of Things (IoT), Artificial Intelligence (AI), machine learning, 3D printing, robotics, quantum computing, micro and optoelectronic, wireless sensors networks and systems, smart cities, embedded software and nanotechnology technologies, the key emerging fields in the 4th Industrial Revolution. He initiated the creation of the Alberta IoT Association (www.albertaiot.com), giving a huge opportunity to many companies and different organizations to collaborate on technology, marketing, commercialization, education, and to position Alberta and Canada as the worldwide center of excellence for the Internet of Things (IoT), Artificial Intelligence (AI), machine learning, other advanced and smart technologies.
Moïse is the Industrial Relation Chair of the IEEE IEMCON, and a Technical Program Committee (TPC) member of several IEEE conferences. He is also member of the Canadian Institute of Mining, Metallurgy and Petroleum Association (CIM).and a Professional Engineer (P.Eng) licensed/registered with (APEGA).
He was also the NRC-IRAP West's Diversity Representative and an Adjunct Professor in the Department of Electrical and Computer Engineering at the University of Calgary, and Cape Breton University.
He has published many scholarly papers and presented his research at international conferences. He speaks English, French, Greek and Bassa and has served in various African community associations, organizations, and also as the President of Ecole Notre Dame de la Paix de Calgary Parents Council.