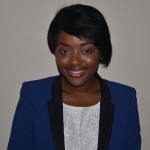 Catherine Tsobgny is an empowered, fearless and passionate professional who has recently been appointed Director of Marketing and Communication at the CCF. Originally from Cameroun, she was born in Lille, France and raised with strong family beliefs and determination which she considerably attributes to her development and success.
After graduating from junior high in Douala, Cameroon, she moved back to France at age 15 to pursue her education. Because helping others has always been Catherine's number one priority, in 2007, she started with the help of fellow students "Coup de Pouce des Echos" a university group that assists sick children in hospitals by providing them with activities to make their hospital's stay more enjoyable. Ever since she moved to Calgary she has been an active member of her community.
She received her Bachelor's degree from the Catholic University in Lille, France in Business Administration, with a minor in management and earned her Master's degree in International Corporate Management from the same institution. She enjoys singing, cooking, reading, travelling and encouraging her peers to explore and reach their full potential.