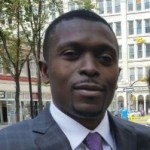 Brice Bouwa is currently Project Senior HSE & Risk Consultant. Born in Cameroon, his qualifications include Master Degree in Technological Risk Management from the INP Toulouse – Engineering school, Toulouse, France, Associate's Degree in Maintenance and Industrial Engineering from the University of Ngaoundere in Cameroon and Project Management Certificate from SAIT Polytechnic in Calgary.
Long active in volunteering activities, Brice Bouwa has served as volunteer with the Calgary Catholic Immigration Services (CCIS) and now serves on the Board of the Northern Hills Community Association (NHCA) as Community Enhancement Director and also as volunteer with the City of Calgary.
Brice is a member of the Cameroonian-Canadian Foundation Scholarship Committee.