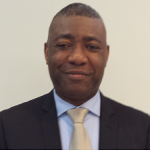 Mr. Appolinaire Atangana is a Middle Year Program (MYP) Science Teacher in an International Baccalaureate School in Calgary. The aim of all International Baccalaureate programmes is to develop internationally minded people who, recognizing their common humanity and shared guardianship of the planet, help to create a better and more peaceful world.
Mr. Atangana shares his passion of science with his students by encouraging them to become creative, critical and reflective thinkers. He has worked in Cameroon for many years as an Inspector of Education as well as the Manager of the Teacher Resource Centre. He holds a Masters degree in Education in the field of Didactic Biology and a Bachelor of Science in Geology from the University of Yaoundé as well as a Transition to Alberta Classroom Certificate from the University of Calgary.
As a volunteer soccer coach, Mr. Atangana coached children from his community every summer. Appolinaire speaks English, French, and Fan-Beti and has been president for various non-profit organizations including the Cameroonian Association of Calgary that he co-founded and remains as Advisor. He is the first Vice-Chair of the Cameroonian-Canadian Foundation and the Head of the Educational Portfolio.